Start Parenting
By Taking Care
Of Yourself

Taking care of your child is important,
but so is taking care of yourself.
It takes unimaginable courage and bravery to step into parenthood. Our little ones' strong beliefs that we are the only ones to protect and lead them somehow make us vulnerable. Kids, chores, work tasks, partners and families - how are we supposed to manage all of this with such a limited amount of time and stamina?
Unfortunately, grandma or the sitter isn't always available to watch the kids so we can take care of everything else life throws at us. As a first-time parent (jeez, I just realized almost half of our team members are parents. I guess we're all warriors), I know I must find ways to lighten my pressures, to find balance in this parent version of the impossible trinity (welp, maybe it's a quaternity? Or even more?)
By opening up to our own moments of fear and self-doubt as first-time parents, we've built things that can help regain balance in our lives.
"It's hard enough for parents these days -- they've mustered up the courage to embrace a new life, learn to be a parent, tackle their jobs, and take care of the family."
We know how first-time parents cling to their baby monitors, which allow them to keep track of everything, anytime, anywhere, without their kids being alarmed.
We designed our very first baby monitor with features you'll actually use. It includes a parent device with a beautiful 5-inch HD screen, and an advanced HD camera that can pan 355° and tilt 120° to capture the whole nursery. With super nightvision, you'll be able to see your little one clearly at night.
We've heard news about some weirdo hacking into baby monitors and of course no parent would want any of that, so no app downloading, Wi-Fi connection or account creation is required to use this baby monitor. Just plug in the camera and turn on the monitor, they'll connect instantly and you're ready to go.
We hope this monitor can save you from unneeded trips to the nursery, so you can go nail all the other tasks in your life. 💪
---
bonoch Baby Monitor offers the reassurance without the risk of startling your little one and will save you a lot of legwork.
---
---
---
The next thought that came to our mind was: parents are running on so little sleep. A parent loses more than 350 hours of sleep in the baby's first year and that's fine, because our little angel basically relies on us for……everything.
And then there's the bad news: kids won't be able to fully understand the concept of time, or read clocks, until around 7-8 years old. That's why some of them will wake up at ungodly hours, swinging by your bedroom to say hello.
One of our team members, Natalie, is dealing with her 2-year-old escape artist. She showed up to our recent zoom meetings with puffy eyes and, no solution.
So we made this magic machine, a machine that can sleep train your toddlers with easy-to-understand visual cues.
Light is red, stay in bed
Light is green, good morning!

Our OK-to-Wake Clock uses different colors to prompt if it's time to go to bed, take a nap, or wake up and find mommy/daddy, and you can create customizable schedules via the bonoch baby app in a snap.
Sounds too good to be true, right? It works because kids love and thrive with simple rules, and they're guided by clarity that helps them understand what is going on around them, which builds their confidence.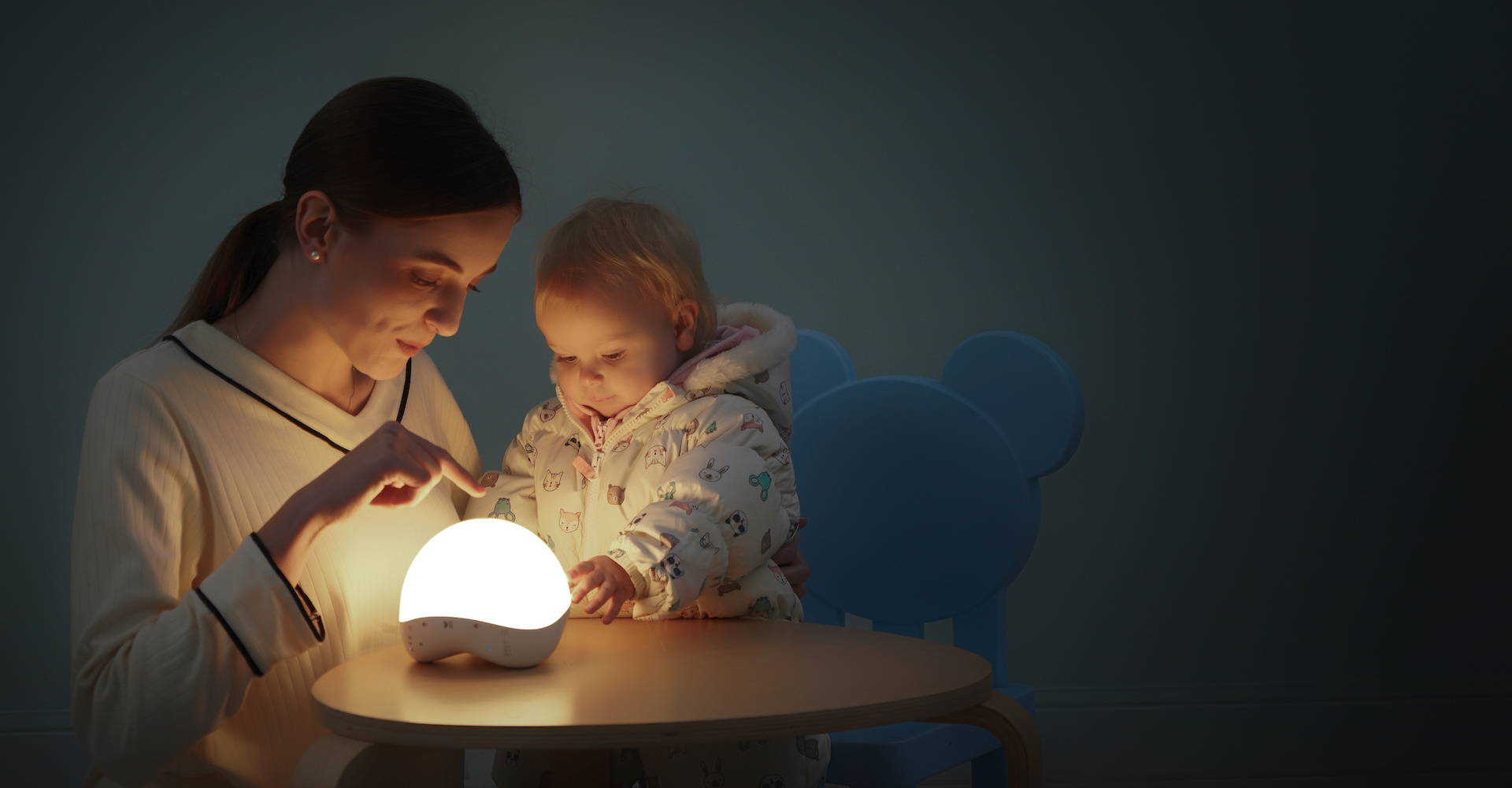 Great nursery devices should grow along.

This OK-to-Wake Clock is more than a sleep training device. It's also a customizable night light that makes late night feeding sessions easier, a soothing white noise machine that blocks out household noises, and a sweet dream for both you and your little darlings. How cute will it be when your kids get more sleep, and you get more sleep, and everyone is happier?
---
bonoch OK-to-Wake Clock is designed to establish a sleep routine for your little ones so both you and your kids can get more rest. It is also a night light, a white noise machine, and a nursery device that grows with your children.
---
---
---
"An absolute must-buy for anyone with kids. This sound machine with a nightlight is a life saver!! Our 3-year-old son often woke at 5 and got up every 30 minutes after that. To change his nap schedule, we started with the bonoch sleep trainer program. After just a few days it's already worked!! We picked his favorite purple color as sleeping light with the white noise sleep sound and we set the wake-up color to blue with the cute bird noise. And he really sleeps tight the whole night! Woke up till the beautiful blue light comes up with the glorious birds singing their sweet song. I really like the app which is intuitive and easy to use! When our son has slept and woke up in the middle of the night, I can easily turn on the white noise mode with the app without walking into the room. Almost everything can be done with the app. Super convenient. Really pleased with this purchase and think that the light really makes our life easier."
Flora D.
"We were looking for a white noise machine with a night light to help improve our son's sleep. We had a similar product from a friend, but we sometimes feel it's too loud and too bright during the night, so we ordered it. It's made with good quality and comes with a powerful app. The app is especially powerful, where you can not only select the sound to play and the color of your light, but you can also fine-tune the volume and light intensity to make it best suitable for you. We all enjoyed using this product."
Clark Gutkowski